If you are fun of Mexican Carnitas or the traditional kebabs, this Chipotle Pork Pittas recipe is for you!  You can be sure , the earthy smoky chipotle enhances the juices and flavour of the pork while  helping to softener the meat. This KanKuntastic recipe will be a quick fix for your supper or one of those lazy Sunday brunch.
Recipe courtesy of a Mouthful of Mark – (Check the original recipe)
Ingredients
4 wholemeal pitta breads
Kankun Mexican Chitpotle Sauce
Kankun Mexican Habanero Sauce
4 pork loin steaks (1 per pitta)
Handful of grated cheese
Rocket & pea shoots
1 tbsp Jalapeno peppers finely chopped
½ red onion, finely diced
Handful of cherry tomatoes cut into quarters
Vegetable/Rapeseed oil
Preparation
Place the pork steaks into a container and cover with the Kankun chipotle sauce, mix well to ensure all of the steak is covered and then place into the fridge for at least 30 minutes.
Add a dash of vegetable/rapeseed oil to a frying pan and put on a medium heat.  Cook the steaks for a few minutes each side, you will know when they are done when the steaks change colour from pink to a white colour.  Remove from the pan and place onto a chopping board and allow to rest for a few minutes.  Whilst the steaks are resting, pop your pittas into the toaster and once done cut a slit into each one to make a pocket.
Stuff each pitta with the rocket and pea shoots and then top with cheese.  Thinly slice the pork steak and put this into each pitta along with a sprinkle of jalapeno pepper, red onion and some of the quartered tomato and then a good few dollops of Kankun habanero sauce.
"I had the pork steaks in the fridge, they were destined for another recipe, I'm so glad I changed my mind and came up with this awesome Chipotle Pork Pittas instead, it was so tasty and quick and easy to make, an ideal mid week dinner for all the family". says Mark.
.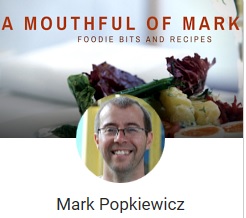 Mark is UK  food blogger that loves to cook and to travel. He is passionate of all cuisine styles and Mexican foods is at the top of his list of favourites.
"I have loved Mexican food for years. Back in the day, Mexican food to me was chilli con carne, fajitas and nachos, how naïve was I!.  I got to know Kankun Mexican Sauces, through a social media competition. I used the habanero on my fajitas and the chipotle on my flatbreads, I was hooked, the sauces had so much flavour and ranged from mild to hot, something for everyone!
I got to know better the Mexican cuisine and discovered a whole new world of recipes, who knew there were so many different types of chillies! I made chicken tortilla soup, I had never even heard of this before, let alone esquites (Mexican street corn salad), what's that!  A new found interest in Mexican food was born, thanks to my friend Rolando Cardenas founder of Kankun Mexican Sauces   and his wonderful sauces." says Mark.
 If you are a food blogger and would like to unleash your inner wrestler in the kitchen like Mark does, do contact info@kankunsauce.com