WHY ARE CHILLIES HOT?
The heat of the chilli comes from the oil called capsaicin which is present in the chilli. It is found mostly in the seeds and the "ribs" of chilli peppers. Capsaicin acts on the same nerves – found in the tongue and the skin – that gives us a sensation of heat. It releases a chemical called "substance p" into the blood which sends signals to the brain, telling it you are eating something hot.
HOW IS CHILLI HOTNESS COMPARED?
A scale of chilli hotness exists which is measured in scoville units. This test was developed back in 1912 by Wilbur l.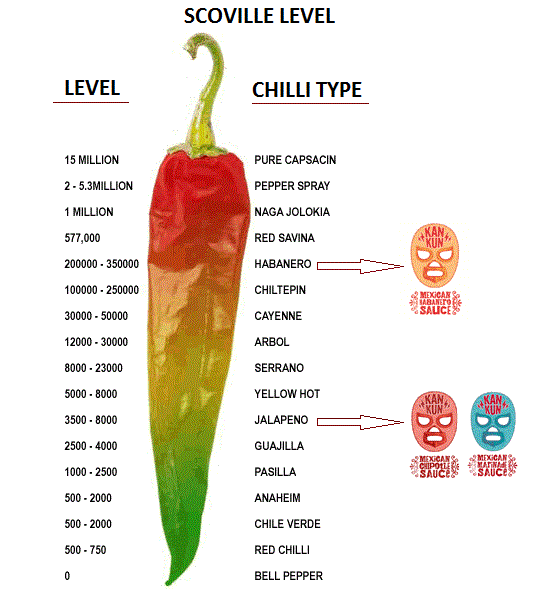 WHERE CAN I BUY KANKUN® SAUCE?
Have a look at the section "Where to buy" at the top of the main menu of the web, you will find a list of Delis and online Shops around the UK. KANKUN® Sauce can also be purchase from AMAZON.
WHAT IS THE WHOLESALE PACKAGING DESCRIPTION AND SHELF LIFE OF KANKUN® SAUCE?
– KANKUN® Sauce can be purchase in boxes of 24 bottle units.
– Bottles 150 ml.
– All our products are labels with the Best Before Date, shelf life is 18 months.
WHAT ARE THE ALLERGEN CHARACTERISTICS OF KANKUN® SAUCE?
All KANKUN® Sauce range is:
– Gluten Free (do not contain wheat or wheat by-products)
– Suitable for vegetarians
– No Nuts
– No factory Nuts
HOW CAN I COOL OFF THE BURNING SENSATION OF EXTREME CHILLI (CAPSAICIN)?
If you burn your mouth with chilli, drinking water will do no good because capsaicin is not soluble in water. Milk, cream or yogurt would cool you off after eating chillies because casein breaks the burning sensation. https://youtu.be/CQ4eYZTVyDI
ARE PEPPERS ADDICTIVE?
Yes, peppers are addictive. peppers contain capsaicin, a natural chemical that sends a burning sensation from the nerve endings in the mouth to the brain. the body defends itself against this pain sensation by secreting endorphins, natural painkillers that cause a physical "rush" – a high that keeps us coming back for more. So indulge your pepper cravings and rest assured that you will soon build a tolerance.
I AM WHOLESALER AND I AM INTERESTED IN SELLING YOUR SAUCE?
You can contact us on sales@kankunsauce.com or call our office 02081335578.
DO YOU USE ARTIFICIAL PRESERVATIVES OR COLORANTS IN KANKUN® SAUCE?
We produce KANKUN® Sauce with natural ingredients. All our products are free of artificial preservatives or additives.
WHAT ARE THE MAIN USES OF KANKUN® SAUCE?
Our sauces can be used as a table sauce, to marinate and cook. A detailed description of each of our products can be found at the Product Section. In addition our recipe section offers full of ideas, recipe and sugestions of usage of our product range.