Recipe by Chef Omar Romero Quezada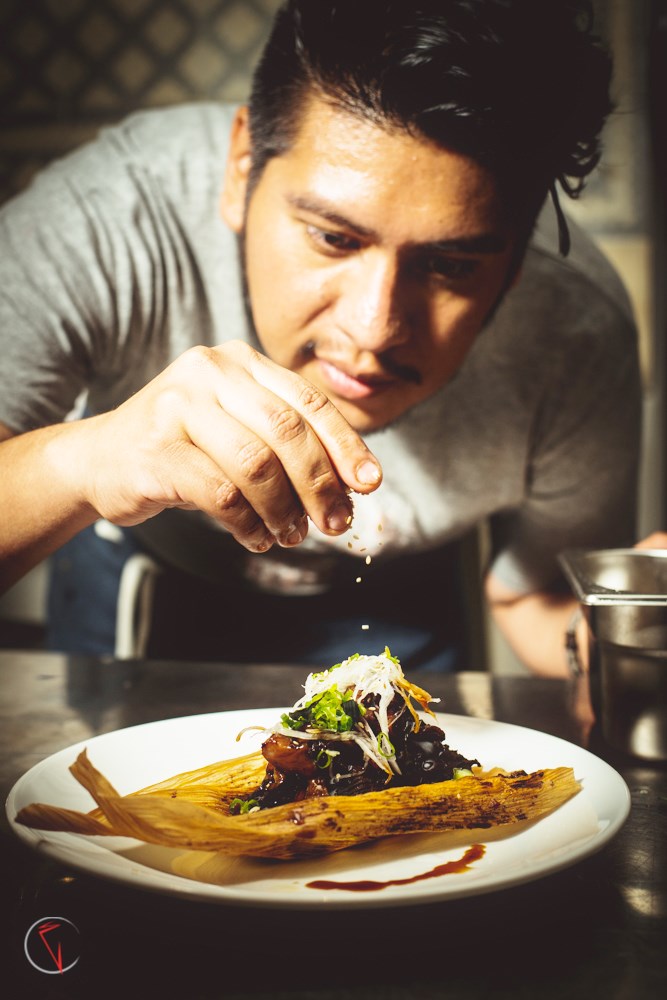 The chipotle sauce from KANKUN has a little hint of smokiness where still spicy that just compliments really well with this dish
INGREDIENTS FOR THE TAMAL (45 tamales)
360g of pork lard or duck fat
250ml of duck broth with 1 teaspoon of baking powder
Salt and pepper
1.350 kg masa for tamales: 1lt water to 500g of nixtamal flour.
Corn Husk
For the Tamales:
Beat the Lard until fluffy, gradually beat in the broth, and beat again for about 3 minutes , gradually add the masa, beating after each addition, Finally beat for 3 minutes more.
Spread one very heaped tablespoon of the masa in a thin layer over the inside top part of a corn husk. Add 1 tablespoon sauce fold in the sauce of the husk so that the dough covers the filling, then fold in to cover.
When all the tamales have been assembled and folded stack hem vertically in the steamer cover them well with extra unused husks and a towel and steam for an hour
DUCK BOUILLON
7 cloves garlic, crushed
4 medium onions, roughly chopped
4 carrots, peeled and roughly chopped
1 tbsp Chipotle kankun sauce
Half a bunch of spring onions, chopped
3 bay leaves
3 star anise
60 gm fresh root ginger, roughly chopped
20 gm coriander, stalks only, washed (use leaves in salad)
1 tsp five spice
20 black peppercorns
Approx 8-10 litres of water
salt.
Duck Legs
Cover the duck with water, add the herbs and spices, bring to the boil and simmer gently for 40-60 minutes, until the meat is completely tender.
Remove the duck from the stock and whilst still warm pull out the bone, then set aside in the fridge to cool.
Once cold, cut the duck into bite sized pieces, leaving the skin on.
Per tamal plate:
75g duck pieces
Toasted sesame seeds
Deep fry the meat and toss in the duck sauce to serve on top of the tamal
UMEBOSHI-CHIPOTLE SALSA
10  medium plums
15 prunes
6 cloves garlic, minced
1/2 cup red onion finely chopped
1 Tbs grated fresh ginger
1/4 cup soy sauce11
3 Tbs sugar
3 Tbs Mirin
3 Tbs Chipotle KanKun Salsa
2 tbsp umeboshi paste (Japanese pickled plum paste)
1 cup duck bouillon
1 tbsp cornflour
Method:
Slice plums and prunes in half and discard pits. Cut each half into about 6 chunks.
Mix plums in a saucepan with garlic, onion, ginger, soy sauce, and Chipotle Kankun sauce, Mirin and umeboshi paste
Mix the cornflour with the duck bouillon.
Heat on medium for 20 minutes, stirring occasionally.
Blend well with an immersion blender and add more duck bouillon to thin if desired.
To finish serve with a fresh salad of Daikon, coriander, spring onions and toasted sesame seeds.