This  is my friend Dougie's own version of chicken tinga. A quick and easy recipe, pack with flavours, that transform chicken to something addictive. Serve on soft tortillas, tostadas or your favourite bead.
Chicken tinga, it is by far one of my favourite Mexican traditional recipes, and it was a must to include in the Wrestler Cook Book (By El Cocinero and KanKun Luchador, 2016).
Ingredients
4 chicken breast
2 red onions chopped finely
4 cloves of garlic (mince)
2 tomatoes (chopped puree)
1 tsp of cumin
a pinch of cloves
salt and pepper
4 Tbsp of Kankun™ chipotle hot sauce
200ml of sour cream (optional)
Corn tortillas
Preparation
Simmer the chicken in a 250 ml of water with salt for 15-20 minutes, cook in the broth, remove the chicken and reserve the stock.
Shred the cooked chicken breast.
Fry onion and garlic in the oil until soft add tomato,  all spices, and Kankun™ chipotle hot sauce.  Be generous with the sauce.
Add slowly part of the stock from the chicken simmer to make it sauce but not runny.
Stir cream and shredded chicken into the sauce (optional).
Warm corn soft tortillas
Top soft tortillas with lettuce, pimientos, top with chicken Tinga and garnish with radish
Serve with chipotle hot sauce on the side to top up the heat
Check the Wrestler Cook Book to find more yummy recipes.
About the book: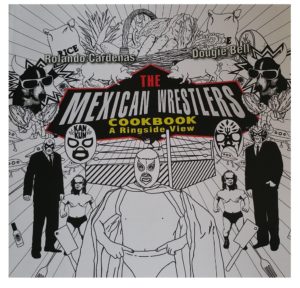 The Wrestler Cook book is a collection of old family recipes with modern fusion Mexican. The authors Dougie Bell aka El Cocinero and Rolando Cardenas aka Kan Kun Luchador are Ambassadors of Mexican Food and the iconic Mexican Lucha libre in the UK.
The Wrestler Cook Book is a none conventional book, it offers a compilation of some of our favourites recipes while sharing key aspects of the iconic Mexican Lucha Libre. The book format is unpretentious and funky, written in a simple language. The recipe section are in black and white. The colour pages are a display of the iconic lucha libre and photo collection of Dougie (AKA El Cocinero)  favourite dishes. All recipes can be replicated at home easily. This is the perfect gift or buy for food lovers!.