This recipe is really easy  to make and is delicious with your roast chipotle Turkey or Chicken. A creation of previous Michelin star holder and Bone Tea Founder, Chef Omar Romero. You don't have to wait till Christmas to enjoy turkey, give it a twist with this delicious sweet-smoky version and treat yourself all year long.
Ingredients
500g Turkey breast

200ml orange juice

1 garlic head (finely chopped)

4 tablespoons of honey

1 bunch rosemary

3 tablespoons KanKun Mexican Chipotle sauce

1 teaspoon smoked Spanish paprika

3 Tablespoons of olive oil

I cup Chicken BoneTea

Salt and pepper
Preparation
Mix the orange juice, chopped garlic, honey, Kankun Mexican Chipotle sauce, and Spanish paprika together, this will be our marinade. Reserve.

Apart, season the turkey breast with salt and pepper, and cover with the marinade, keep on the fridge for at least 4 hours to infuse the flavours. After this time remove the turkey breast from the marinade shaking slightly to remove the excess.

On a low heat pan, sear the turkey breast with a little olive oil until get a slight golden colour. Mix the remains of the marinade with the chicken bone tea and add to the turkey, allowing to cook in the pan for around 8 min depending on the thickness of the turkey.

Serve with rice, roast potatoes or salad.
This is a great recipe for Sunday Brunch, Christmas or Thanksgiving.
About Chef Omar Romero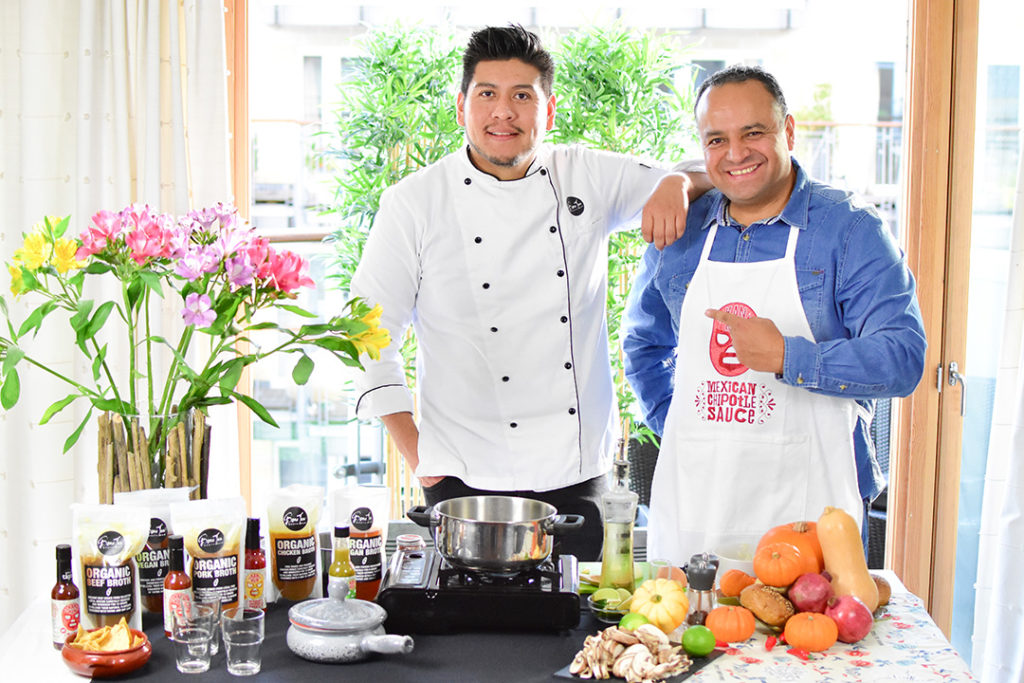 Omar Romero Chef Omar Romero Quezada is a Mexican chef and entrepreneur, Founder of Bone Tea and SLO restaurant group . With specialised training in Mexico City New York and Paris, and a professional training with Gary Rhodes and Gordon Ramsay; Omar became the first Mexican-born chef to hold a Michelin star in Europe in 2013 at Rhodes 24.
He has helped develop successful Food and Beverage Concepts in places such as Las Vegas, Abu Dhabi, Dubai, Mexico City,and London. Omar has worked with renowned companies including British Airways,Starwood, Rosewood and Four Seasons, to name a few.
We are delighted to have Chef Omar Romero as a KanKun guest of the month to showcase delicious recipes with KanKun Mexican Sauces and  Bone-Tea as part of the ingredients.