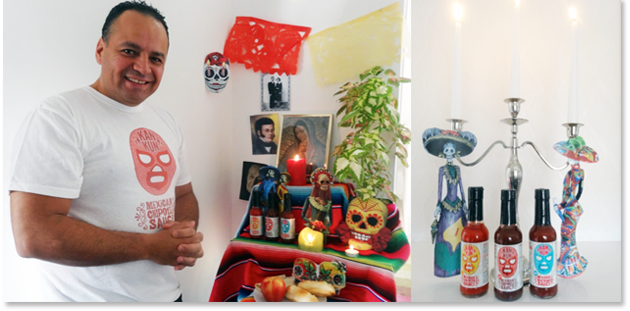 I have beautiful childhood  memories about The Day of the Dead (Dia de los muertos), I would like to clarify this celebration is not the Mexican version of Halloween.
This day  is much more than painting your face or having a Halloween  party,  it is a tradition about love, respect and celebrates life, a day in which all Mexican people offer tribute to the relatives and close friends that have passed away.
What is the real story behind this big celebration?
"Día de Muertos" has been with Mexican people since 1800 B.C when indigenous had festivities dedicated to the celebration of children and the lives of deceased relatives  every ninth month of the Aztec solar calendar. The ceremonies were presided over by the goddess Mictecacíhuatl, also known as the "Lady of Death" (now related to "La Catrina" character of Mexican author José Guadalupe Posada) and wife of Mictlantecuhtli, Lord of the land of the dead.

What is the tradition of the altar?
One of the most beautiful traditions around this big date is the altar. I remember my granny used to choose a place in the house to build an altar with religious images,  place the picture of the deceased relatives in our family on a traditional table cloth decorated with confetti of different colors.  Thereafter, we placed food and candles or oil lamps.  All mirrors were covered in the house  and  incense burner were all over seeking to cleanse the environment and the path to the souls of the faithful departed.  We used to leave "ofrendas",  food  as a gift to our departed family members.  Great lovely memories!
What do we eat on this day?
How could I forget the food … the most common dishes and hardly missing were: mole, tamales, atole, pan de muerto, meats in various stews, pozole, chiles rellenos, fresh juices, beer, wine or spirits, pulque, fruits of all kinds without missing tejocotes, reeds, jicama, sweets between which are the traditional sugar skulls or chocolate (candy skulls of different sizes which usually bear the name of the deceased and their families, living or dead also), coconut candies, pumpkins blemish, stuffed lemons, potatoes, amaranth, jamoncillos (dulce de leche), pears and figs crystallized tamarind rice tejocote preserved milk, guava and peach.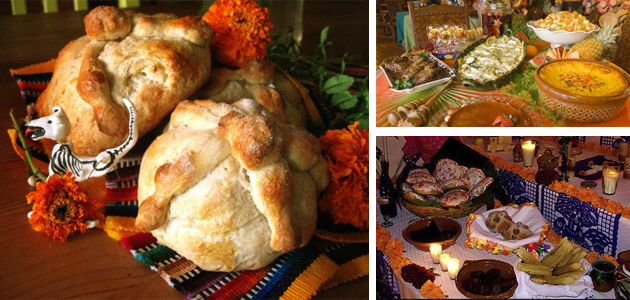 Check KanKun Sauce suggestions for Day of the dead celebration!