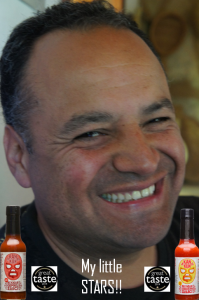 The world's largest blind-tasted food awards Great Taste, has just released the stars of 2014 and KANKUN® MEXICAN SAUCES is amongst the producers celebrating as its KANKUN® CHIPOTLE HOT AND KANKUN® HABANERO is now able to proudly carry the little gold and black Great Taste logo.
Judged by over 400 of the most demanding palates belonging to food critics, chefs, cooks, members of the Women's Institute, farmers and a host of food writers and journalists, Great Taste is widely acknowledged as the most respected food accreditation scheme for artisan and speciality food producers.  When a product wears a Great Taste label it carries a badge of honour but more importantly, the Great Taste logo is a signpost to a wonderful tasting product – and hundreds of judges have worked hard to discover the very best through hours and hours of blind-tasting a total of 10,000 different foods and drink.
 "We are ecstatic  with the results, it is a privilege to be one of the very first Mexican brands to earn the prestigious Great Taste award, I am proud to be a Mexican sharing the authentic flavours of Mexico among the Brits", says Rolando Cardenas the creator of KANKUN® MEXICAN SAUCES.
Great Taste is simply about taste, not clever branding or smart packaging.  Judges are presented with a spoonful of jam, a pie, a slice of salami, or a cup of espresso, with no wrappings, jars or marks – and they taste, confer and re-taste before making the decision on whether a product should be a star winner.  In total more than 12 judges will have tasted and commented on each product.
This year a massive 10,000 products entered into Great Taste and of those products, 153 have been awarded 3-star.  A panel of supremely talented judges including; Masterchef judge and restaurant critic Charles Champion, BBC Food Programme presenter Sheila Dillon, Great British Bake Off winner Frances Quinn, MasterChef 2013 Natalie Coleman, food buyers from Harrods, Fortnum & Mason, Selfridges, Harvey Nichols and Whole Food Markets, and chefs including Michelin Star chef Russell Brown have together re-judged and tasted yet again the 3-star winners to finally agree on the 2014 Top 50 Foods, the Golden Fork Trophy winners as well as the new 2014 Supreme Champion.
What should consumers look for?   The Great Taste symbol is their guarantee a product has been through a rigorous and independent judging process. It's not about smart packaging or clever marketing – it's all about taste.
Notes for editors:
KANKUN® is a family business founded in 2012 by Rolando Cardenas, to support the fashionable Mexican culture with authentic Mexican flavours and to liven up the taste of meals without harmful additives. KANKUN® saucesgives you inspiration with your cooking, whether it being a traditional, family orientated Mexican dish or a twist on old favourite, KANKUN® wants to bring your barbeques to life this summer with their collection of four bona fide Mexican sauces.  For more information on the KANKUN® products, where to buy and recipe ideas please visit www.kankunsauce.com
Great Taste is the largest and most trusted accreditation scheme for speciality and fine food & drink. Established in 1994, it encourages and mentors artisan food producers, offering a unique benchmarking and product evaluation service leading to an independent accreditation that enables small food and drink businesses to compete against supermarket premium own label brands.