Great initiative of the Mexican Chamber of commerce in the UK  to offer a cocktail party in honour of the well known and expert of Mexican cuisine Mrs Diana Kennedy.
I can't wait to meet her and to get one of the signed copies of her new book edition "MY MEXICO".  I am a profound admirer of Doña Diana. I  enjoyed  all her books and  I've read some of her article,  they are a great source of knowledge of our Mexican heritage and our culture.
Diana Kennedy's Reception & Book Launch
Venue: Hyatt Regency-The Churchill (Ballroom)
Hour: 18:15 – 20:30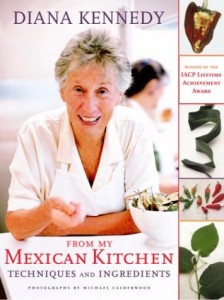 "Mrs Kennedy, is an author and authority on Mexican cooking.  A native of the UK , she moved to Mexico  in 1957 with her husband, Paul Kennedy, who was a correspondent for the  New York Times. She has been called the "Julia Child" of Mexican Cuisine" and has spent 45 years traveling through Mexico researching cooking techniques and the history of Mexican cuisine. Her first cookbook was published in 1972. She currently resides in the state of Miochacan."
Ms. Kennedy was awarded the Order of the Aztec Eagle,  by the Government of the Republic of Mexico for her contributions to the documentation of regional Mexican cuisine, as well as an MBE by the British Government for her work strengthening cultural relations between Mexico and the UK.