.


Recipe and photos: Courtesy of ComplementZ

KANKUN® chilli sauce can be purchase from www.complementz.com/shop/kankun-hot-chipotle-sauce
Ingredients
1 pack of chicken wings (each wing will creates 2 Lollipops)
1 pack of streaky bacon (equal number of rashers to lollipops)
1 Tablespoon of virgin oilve oil
1 Teaspoon of sea salt
1 Teaspoon of black pepper
1 bottle of KANKUN® Hot Chipotle Sauce
Method – Preparing the lollipops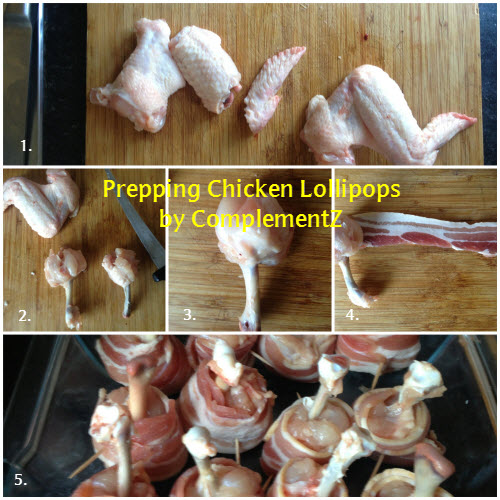 1. Cut off the wing tips and discard.
2. With your fingers, rub the joint of chicken wing until the bone becomes dislocated. Slice through the flesh making sure not to cut the bone until you have two separate part of the chicken wing (The wing and fore-wing)
3. For the larger piece of wing (wing), cut the flesh away at the recently separated joint until you have exposed the bone. Hold the exposed bone and push the meat away so it all gathers at the bottom of the bone in one piece. For the fore-wing (this has two smaller bones), repeat as above and when you have finished remove one of the two bones (by cutting it away at the dislocated joint).You should now have an equal number of chicken lollipops
4. Wrap the meat with a rasher of bacon and secure with a toothpick
5. Drizzle with olive oil – season with salt and pepper and pop in the fridge for an hour.
Cooking the lollipops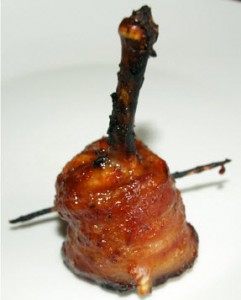 When ready to cook, take the chicken out of the fridge and brush liberally with KANKUN® Hot Chipotle Sauce (keep some spare sauce) Place the chicken lollipop side down on the hot grill with the bone sticking up in the air:
Whilst cooking, continue to brush the chicken with sauce to create caramelized coating. Cook for up to 15 minutes in total
Serve and Enjoy!
Thanks to Complementz's Team for sharing with us their recipe.