Wow! http://www.reveal.co.uk/ have featured our KANKUN free meat Burrito recipe as the perfect recipe for National Vegetarian Week! #KANKUNtastic
Issue 21-May-2014  Do not miss this issue.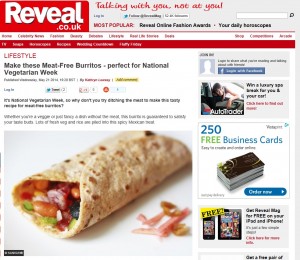 About Reveal – Vital Statistics
Print Circulation    176,844
Digital Circulation   1,565
Combined Circulation    178,409*
Readership   471,000
Key target audience Female Main Shoppers 335,000
Reveal's celebrity writers are: Gok Wan, Jamie Oliver, Katy Brand and Jonathan Cainer.