KANKUN® SAUCE was a guest during Looking Outside My Window opening night,  at Rich Mix, in Shoreditch, over the May Bank Holiday 2014.   It was a fantastic night!!, some of the high lights were: the music by Mexican DJ Kay and his project WAGONER; the artists: Mexican Award Winning designer Valentina Gonzales and Photographer Darren Mackay; the food Chef Marco Cuervo -Lupita Restaurant- ; the organizer Tupac Martir.  All these spiced up by KANKUN® SAUCE and KANKUN® LUCHADOR.


















Looking Outside My Window  amalgamates music, art, dance, cuisine, cinema, performance and visuals into an all encompassing, affordable five day experience.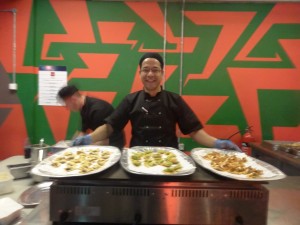 For food lovers….The prestigious Mexican Restaurant "Lupita" installed a pop up Mexican restaurant, where one of the main dishes KANKUN® Mexican chicken wings (cooked with KANKUN® MARINADE SAUCE), was served for the hungry crowd.
For further information click http://www.tupacmartir.com/#lomw