Last weekend was heated up by the Chilli Chilli Bang Bang organized by  Tweat Up,  Wahaca Restaurant and Jose Cuervo.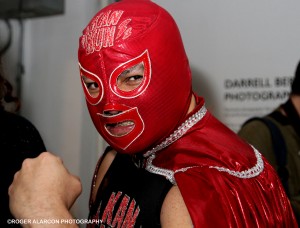 KANKUN® LUCHADOR took his KANKUN® SAUCE to  Dalston Yard that  become the Chilli Pepper Capital of the World last weekend.
It was a 2 day event of the country's top street food, chefs demo-ing their most incredible chilli dishes alongside freshly shaken drinks and amazing times.
Date:  Over 09/10 May 2014   Place:  #DalstonYard.
Thousands of  hungry people were feed with delicious street food as well as  plenty of drinks on offered by Amathus Drinks. There were  also set to a bang-banging cocktail Bar serving  Margaritas and Chilli-Backs.   One of the key attractions were the KANKUN® cocktails prepared with KANKUN® habanero and chipotle hot.
People were amazed  by the great variety of great products on offer for their condiment cupboard – all of these bottles were available to taste and take home:
KANKUN® – Mexican Habanero Sauce and KANKUN Chipotle range
#1 Cabana- House Hot Sauce
Chef Patty- Fire Blaze
Dalston Chillies – Chipotle Ketchup-Original Hot Sauce –
Disco Bistro- B*stard Gooseberry Ketchup

LIMITED EDITION

Mama Nora's – Chilli Sauce

FIRST BOTTLING

 
Mama's The Word- Scotch Bonnet Jam
The Rib Man- Holy F*ck

#RIBSTOCK HOT SAUCE WINNER

  – The NagaRita

FESTIVAL EDITION

Mr Singh- Hot Punjabi Chilli Sauce
Nusou- Mix Slurp Dash
Wahaca Sauces.
It was great to meet the crowd and make new friends at the Chilli Chilli Bang Bang. See you next time at #DalstonYard.  Indeed KANKUN Luchador and its team had a great time,  KANKUN was  SOLD OUT!!.
More info: http://www.tweatup.co.uk/hot-sauce-deli-and-spice-market/