Spicy chicken kebab is simply delicious; perfect treat for the summer evening, brunch or party.  Lime and Jalapeno make a terrific marinade that also can be mixed with your favourite veggies.   Have fun cooking this yummy dish on your bbq or oven. Thank you Feasting is Fun blogger for sharing this delicious recipe.
Ingredients:
650g/1.5lb Skinned Boneless Chicken Breast
2tbsp Olive Oil
Juice of 1 Lime
2 Cloves of Garlic – crushed or minced
1 Small Chilli or 1/2 Jalapeño Chilli –  sliced (seeds removed if preferred)
1/4tsp Sea Salt
1/4tsp Freshly Ground Black Pepper
1 large recyclable plastic food bag.
Preparation
Mix the ingredients in a bowl, add the chicken and leave to marinade in the recyclable plastic bag for 2 hours or over night.
Cook in a Preheat the oven to 200C/180C fan, gas mark 6 or cook over a medium hot barbecue grill. Visit Sammy's blog to get full cooking steps..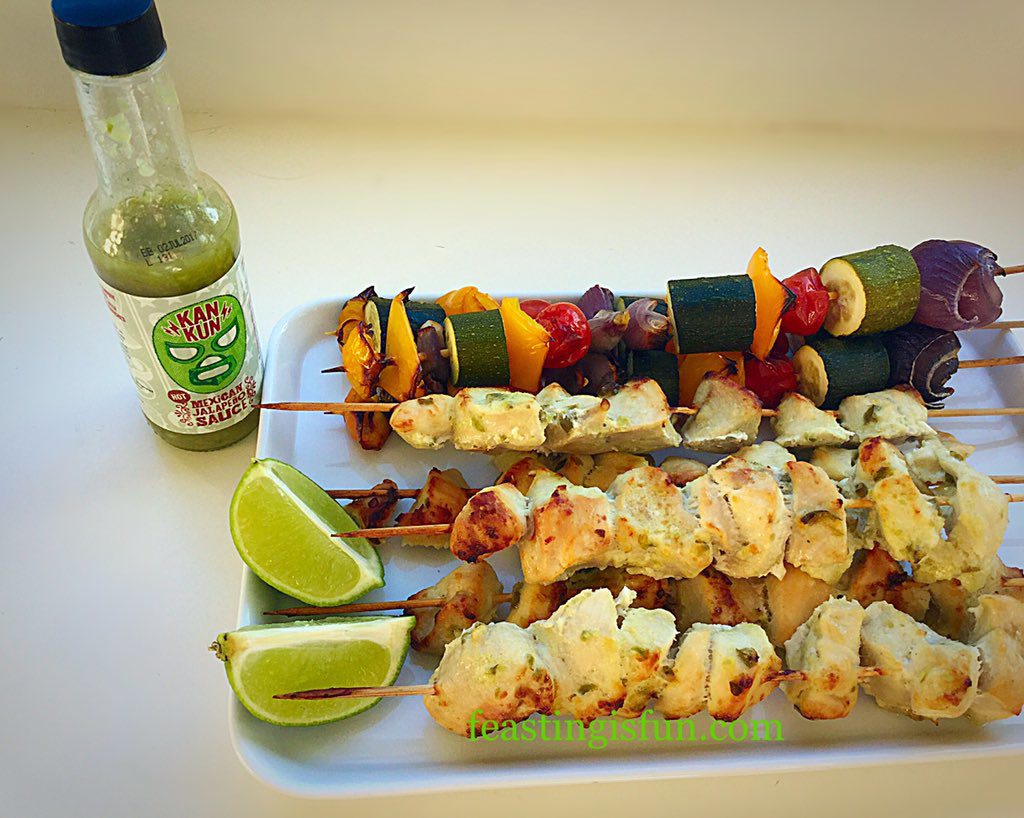 Photos courtesy of  Feasting is Fun
" Whilst I love the heat that chilli imparts to a dish, I never want to compromise on flavour. Kankun Mexican Jalapeño Chilli Sauce is so delicious and perfectly blends with the other flavours in these Chilli Lime Chicken Kebabs.  ".  Sammy