During the Chilli Bang Bang event, I had the chance to taste the most delicious quinoa burgers, brought by "Andina", a popular Peruvian Restaurant based in Shoreditch, they were delicious!!!.
I decided to recreate a Chipotle quinoa Burgers with Crunchy Guacamole using my KANKUN CHIPOTLE HOT (alternatively use KANKUN® CHIPOTLE Mild if you do not want it too hot ).
There is nothing like these amazing sweet, hot and crunchy quinoa burgers! They are full with flavours and nutrients, quinoa has become very popular and it has been featured as SUPER FOOD.
Ingredients
1/3 cup quinoa
1 cup cooked sweet potato
1/2 cup white beans
1/2 tsp salt
1/4 tsp garlic powder
1/2 cup bread crumbs
Olive oil for cooking
2 hamburger buns 3-4 tbsp of KANKUN® CHIPOTLE HOT (or mild)
Guacamole
Preparation
Heat a pan with the 2/3 cup of water and 1/3 cup quinoa. Bring it to a boil, then reduce to a simmer and cover. Let the quinoa cook for 10-15 minutes (or until all the water is absorbed), then remove from the heat and let rest for at least 5 minutes.
Peal and dice 1 medium, sweet potatoes. Cook the sweet potatoes in a pot of boiling water for 10 min, or until soft and mash-able.
Once the sweet potatoes and quinoa are done cooking, combine the sweet potatoes and white beans in a mixing bowl and smash with a potato masher until well mashed but still retaining a little texture from the beans.
Now add KANKUN® CHIPOTLE and the spices. Mix well, and then add the quinoa and fold it into the mixture with a spoon.
Heat a medium size pan with olive oil on the stove to medium heat. Form the quinoa potato mixture into your desired size, coat them with bread crumbs, and cook for 4-5 minutes on each side.
Now served the quinoa burger on the buns and build your burger with your guacamole.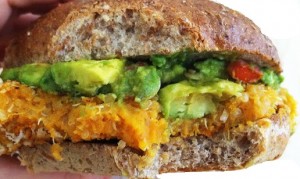 Enjoy amigos!!!