In Mexico, September is known as "Mes de la Patria" (month of the nation) and one of the most important celebrations of the year is the Mexican Independence Day. A day for Mexican's everywhere to celebrate as well as to dig out our national pride.
For those wondering what is the magic behind this big and symbolic celebration, here is the story and its traditions: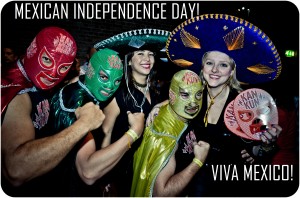 El Grito (or the "cry for Independence") is a tradition that commemorates the original grito given by father Miguel Hidalgo y Costilla in the town of Dolores, Guanajuato back in 1810 to gather all to join the rebellion against the Spanish colonizers. This was the beginning of our Independence and ever since, every 15th of September at midnight all Mexican all over the world gather together to shout the famous Grito: VIVA MEXICO!
In Mexico, every city, street, home and even cars, are decorated with flags, flowers and lights of red, white and green. People of all ages join parties and the euphoria is collective, the symbolism gives you chills, the fervour is contagious when the celebration begins.
As always, food plays a very important part on these festivities; the traditional foods most commonly served are: antojitos (finger food), mole poblano, chiles en nogada, guacamole, candies and punch. Look out for our upcoming traditional recipes in our website!
Mexican Independence Day celebrations will be plentiful in London as several Mexican restaurants and organizations including the Mexican Embassy in London have  planed events to celebrate this patriotic national day.
KANKUN WILL SPICE UP SOME OF THE MAIN CELEBRATIONS IN LONDON STAY TUNE ON OUR FACEBOOK FOR FURTHER DETAILS.