We are thrill  that  Mexican Molcajete recipe,  prepared with KanKun Mexican Chilli Sauce was featured at Good Things Magazine, Edition May 2015 – Meat and Prawns in sauce Mix Molcajete –   by Zoe Perrett.  This was a special edition to celebrate de traditional  Cinco De Mayo.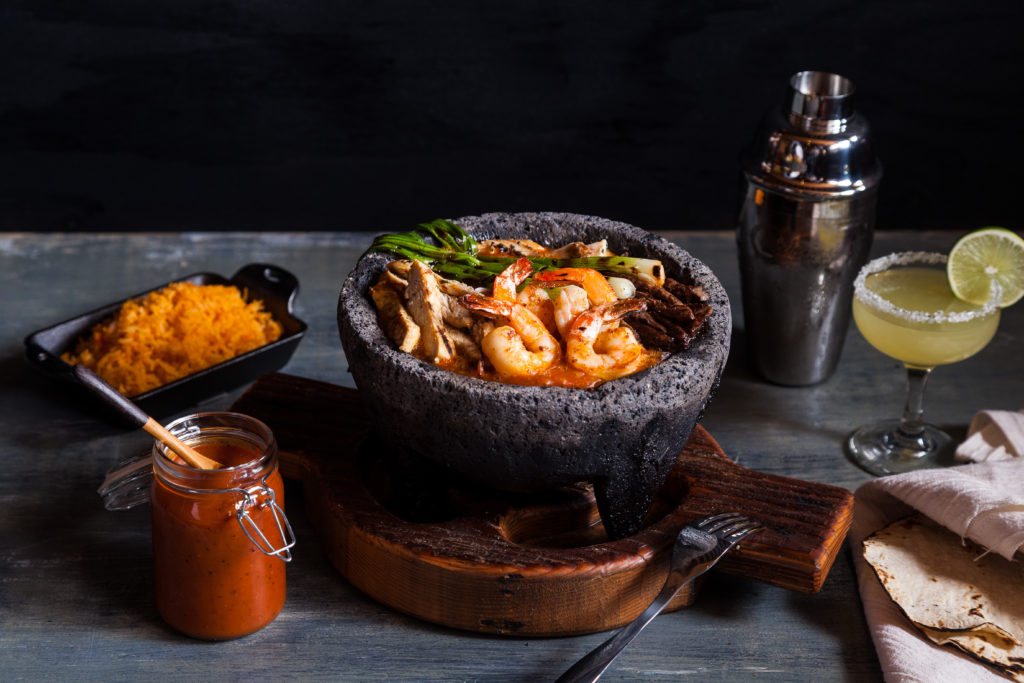 This recipe is traditionally both prepared and served in a Mexican Molcajete, a pre-Hispanic tool used by the Aztecs and Mayans and in the modern Mexican kitchen – you can substitute a rough stone pestle and mortar (or even, inauthentically – a blender and serving dish).
Serves 4
Mexican Molcajete Ingredients
For the sauce:
1 clove garlic
1 bottle of KanKun chipotle sauce
½ an onion, chopped
1 bunch fresh coriander
1 tomato, peeled and quartered
salt and black pepper, to taste
For the Mexican Molcajete meat base:
200g chicken breast, sliced into strips
1 tbsp olive oil
salt and black pepper, to taste
200g fillet steak, sliced into strips
150g prawns
1 bunch spring onions, trimmed
To serve:
8 corn tortillas
200g refried beans
1 large avocado, peeled and sliced lengthways
Mexican cheese
½ a bunch fresh coriander, roughly chopped
METHOD
For the sauce, place the garlic, KanKun sauce, onion, coriander and tomato into a molcajete/mortar/blender, and crush together. Season to taste, then transfer the mixture to a pan, place over a high heat, and bring to the boil. Reduce the heat and simmer for 5-8 minutes.
For the molcajete meat base, set a griddle pan over medium-high heat. Toss the chicken strips with olive oil and salt and pepper, then add to the pan. Meanwhile, repeat the seasoning procedure with the steak and shrimps, then add to the hot pan, and cook until done to your liking.
Remove the meat from the pan and place it into the sauce. Set aside to rest and keep warm. Add the whole spring onions to the griddle pan and griddle for 1-2 minutes.
To serve, toast the tortillas under the grill and warm the refried beans. Transfer the meat and sauce to a serving dish and garnish with the grilled spring onions, avocado, Mexican cheese and chopped coriander. Serve with the toasted tortillas and refried beans alongside.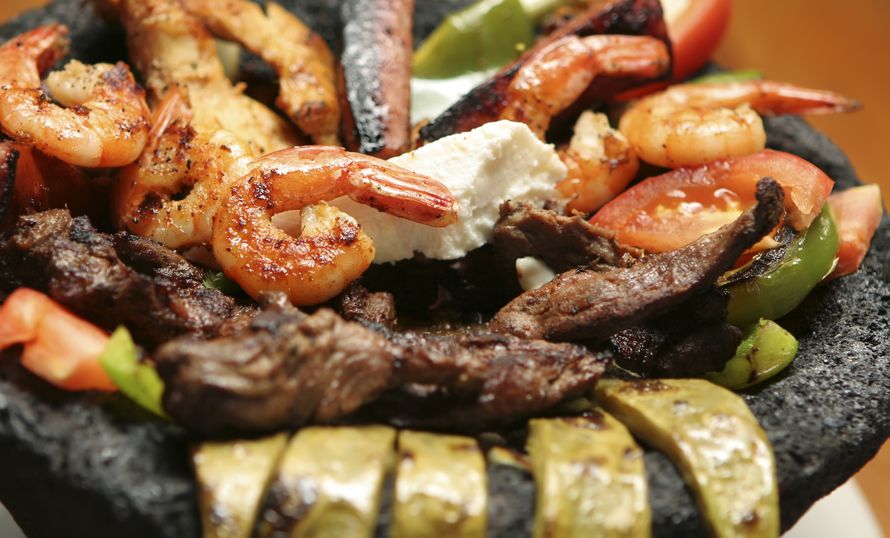 Indeed Zoe, embraces the Mexican culture and its flavours, as she would say "Mexican food is for life, not just Cinco de Mayo"
Read full article published by Good Things Magazine Indulge-in-a-mexican-fiesta-this-cinco-de-mayo