I can reassure you this pomegranate smoky cocktail will blown your mind away, it is a well balance creation by Nicci Stringfellow; if you like smoky this is the cocktail for you!
Kankun™ Chipotle Sauce
has a wonderful smokiness and I wanted to enhance this with the Lapsang Souchong tea. Making a simple syrup with strong tea is a great way to add complexity to simple cocktails. The pomegranate juice adds a nice, deep background to show off the tart raspberries and oaky el Jimador reposado tequila. 
Nicci Stringfellow
Ingredients
Smoky Pomegranate Cooler
50ml El Jimador tequila reposado
30ml pomegranate juice
15ml lime juice
5 raspberries
25ml lapsang souchong syrup (equal parts strong tea and white sugar)
1 tsp Kankun™ Chipotle Sauce
Preparation
Add all ingredients into shaker, shake with cubed ice and double strain into a cocktail glass.
Garnish with a raspberry
Enjoy this delicious smoky cocktail
About Nicci Stringfellow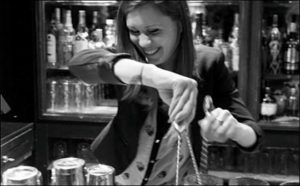 Nicci has been involved in the bar business for 7 years and is famous industry wide for her knowledge of and passion for 100% agave tequila. Nicci started her career at the world renowned "Player" in London's Soho working alongside industry legend and "King Cocktail" Dale Degroff. After honing her skills with the Match Group, Nicci tended behind some of the best bars in the world, including LAB & Opium in London, Biervana in Tokyo and Hakkasan in Mumbai. Nicci is currently the brand ambassador of Casa Herradura owner of El Jimador tequila.
About El Jimador Tequila
"Young and fresh, El Jimador Blanco tequila steps up with truly authentic character. It's made with 100% hand-harvested blue Weber agave and double distilled with sparkling clarity. We've perfected the skills to produce a spirit so rich in flavour that every sip comes to life. Crisp and buzzing with citrus flavours, take a sip or shake it up" (learn more)