Poncho 8 Chilli Challenge: KanKun Luchadores are happy to join the Mexican street food vibe in the UK, by  partnering with Poncho 8 Burrito chain in a KanKuntastic chilli Challenge competition taking place on March 15-16-17 2017.
Join us in Poncho 8 to liberated your inner luchador and prove how tough you are with Chilli.
March 15-16-17 Poncho 8 St Pauls
March 29 Poncho 8 Canary Wharf
March 30 Poncho 8 Paddington
March 31 Poncho 8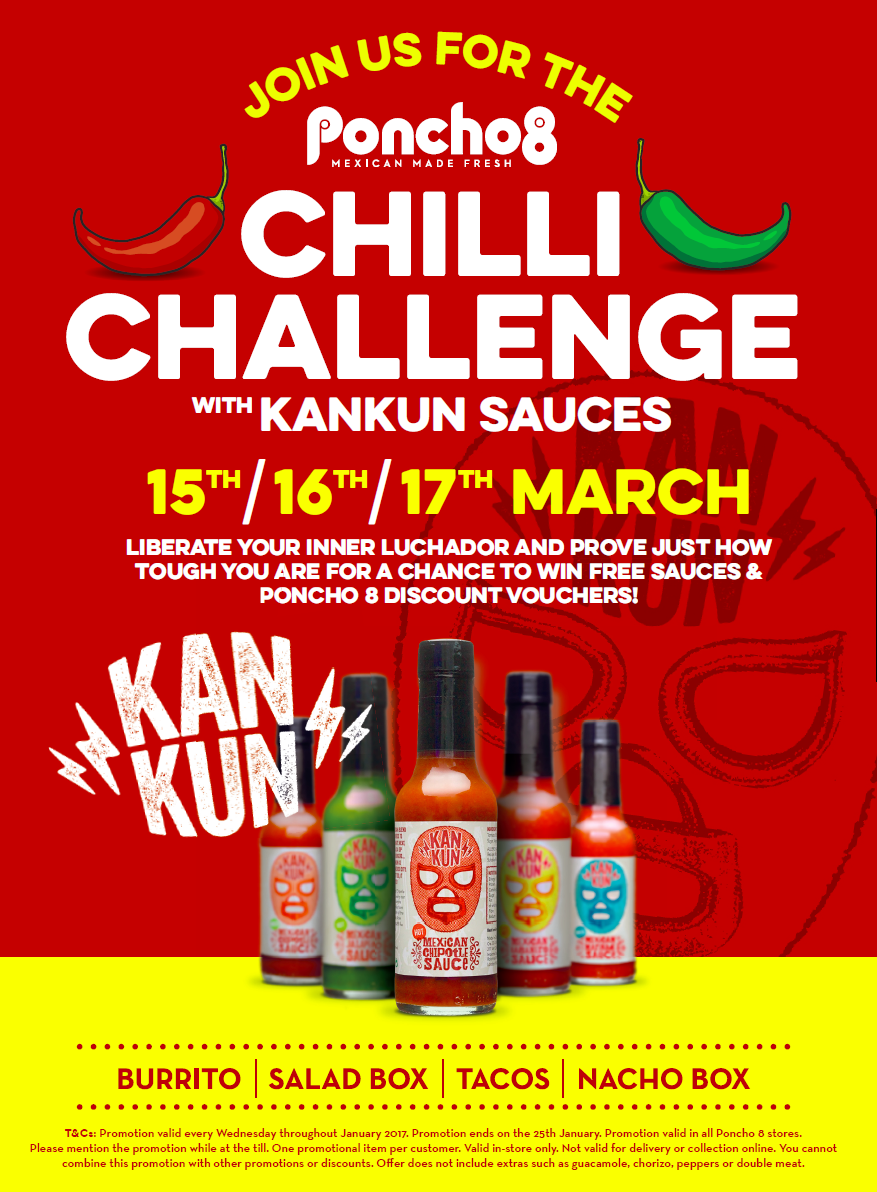 T&C's: In order to enter the competition, you need to submit your email address to our sign up list, while in store. The following prizes: 3 Bottles of Kankun Sauce and 3 free meal vouchers from Poncho 8 will be given out to randomly chosen entrants. The winners will be announced on Monday 20th March 2017 and contacted via email. The prize is non transferable, non refundable and have no cash value. By entering this Prize Draw, you agree that your details including your email address may be used to keep you informed about Poncho 8 and KANKUN® Sauce promotions, products and news. Poncho 8 and KANKUN® Sauce complies with the standard procedures laid down in the UK Data Protection Act to ensure that the personal information you give us is kept secure and processed fairly and lawfully. We will not share your information with third parties for marketing purposes unless you have given us permission to do so.
About the Burritos market in the UK:
"The UK is riding a Mexican culinary wave with burrito outlets now the fastest growing type of eatery on the high street. it is the humble burrito, which translates as "little donkey" in Spanish, that is top of the fast food growth league. Over the last five years burrito chains have opened an average 57% more outlets per year compared to a 16% annual rise in posh burger joints over the same period, according to a report by property advisory firm CBRE and data company Retail Locations. " (The Guardian News Paper Mexican Food and Drink).
About Poncho 8:
Poncho 8 Is a burrito chain in London. This burrito bar promises fresh Mexican cuisine, all wrapped up in a small and concise menu. Choose from a regular burrito, fajita burrito, 'skinny' burrito or tacos; select your fillings, such as barbacoa, chicken, beef or seasonal vegetables; top it off with various salsas and extras.