Prawns avocado salad is great as a starter or as a light weekend brunch. This low calorie salad is quick, easy  and is bursting with healthy fats. I promise it will bring a rainbow of  fresh colours and delicious flavours to your table. Recipe is courtesy of Mouthful of Mark.
Ingredients
350g fresh or frozen peeled cooked prawns
1 large ripe avocado
6 tbsp natural yoghurt
2 lemons
15g basil (around half a bunch)
1 cucumber
4 spring onions
Mixed bag of salad leafs
200g ripe cherry tomatoes (quartered)
Punnet of cress
Extra virgin olive oil
200g fresh peas
1 red chilli
This recipe should serve 4, obviously amend the ingredients depending on the number of guests.
Preparation
Peel and remove the stone from the avocado, putting the flesh into a blender with the yoghurt and the juice of 1 lemon.
Reserve a small handful of the basil and place the remainder of the bunch into the blender and blitz until smooth, season to taste.
Trim then finely slice the spring onions.
Peel the cucumber, halve it length ways and scrape out the core and finely slice.  By removing the core it makes it less watery.
In a large salad bowl add the mixed salad leafs along with the cherry tomatoes and most of the cress.
Drizzle over 1 tbsp of oil and the juice of the remaining lemon and then plate up.
Drain the prawns and then toss with 2 tbsp of the sauce and the peas and add to each plate of salad.
Spoon the remaining sauce over each plate and scatter over the finely sliced chilli and the reserved cress.
Once plated, drizzle over the Kankun™ Mexican  Habanero sauce or KanKun™ Mexican Jalapeno to taste (the habanero is an extremely hot sauce).
The avocado has quite a mild flavour therefore the habanero sauce really lifts the flavour and gives it a real kick!
This is great for alfresco dining, perfect with some crusty bread or if you make smaller portions it goes well with a lovely piece of steak or chicken.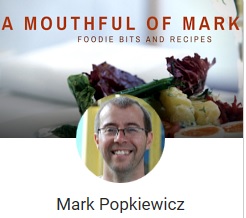 Mark is UK  food blogger that loves to cook and to travel. He is passionate of all cuisine styles and Mexican foods is at the top of his list of favourites.
"I have loved Mexican food for years. Back in the day, Mexican food to me was chilli con carne, fajitas and nachos, how naïve was I!.  I got to know Kankun™ Mexican Sauces, through a social media competition. I used the habanero on my fajitas and the chipotle on my flatbreads, I was hooked, the sauces had so much flavour and ranged from mild to hot, something for everyone!
I got to know better the Mexican cuisine and discovered a whole new world of recipes, who knew there were so many different types of chillies! I made chicken tortilla soup, I had never even heard of this before, let alone esquites (Mexican street corn salad), what's that!  A new found interest in Mexican food was born, thanks to my friend Rolando Cardenas founder of Kankun Mexican Sauces   and his wonderful sauces." says Mark.
If you are a food blogger and would like to unleash your inner wrestler in the kitchen like Mark does, do contact info@kankunsauce.com