Recipe by Chef Omar Romero Quezada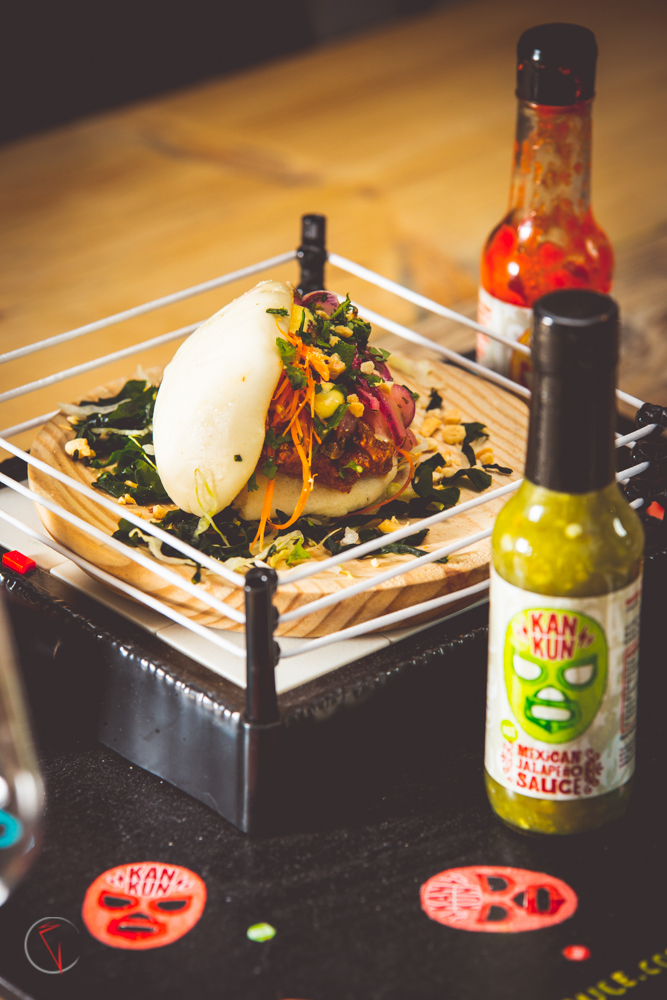 This is a super tasty and contemporary snack inspired by Omar that celebrates the edgier street food traditions of Asia and his native Mexico
INGREDIENTS (4-6 servings)
4-6 Steamed buns frozen (if buns are not available, try on a nan bread or flour tortilla!)
Pork cochinita stew
Red onion pickled
Chopped peanuts
Carrots
Coriander
Habanero Kankun Sauce Mayonnaise 

.
For the PORK COCHINITA STEW
500g Pork shoulder
¼ teaspoon of salt
1 pinch of black pepper
1 bay leaves
½  Tablespoon of oregano
½  large onion
40g achiote paste (you can substitute for sweet Spanish paprika if achiote not available)
1 garlic cloves
1 cup orange juice
1 orange zest
¼  cup red wine vinegar
1 dash of Habanero Kankun Sauce®
300ml water 

.
For the PICKLED RED ONIONS
2 sliced red onions
1 yelow pepper julienne
1 lime juice
1 orange juice
1 pinch of salt
1 pinch of oregano 

.
For the HABANERO MAYONNAISE
250g good quality mayonnaise (Japanese preferably)
20g Habanero Kankun Sauce®
½ lemon juice 

.
METHOD
For the PORK: Mix the achiote paste, garlic, onion, orange juice, vinegar, water and Habanero Kankun Sauce®, on a blender until get a smooth puree. Season the pork shoulder with salt and pepper , add the bay leaves, the oregano and orange zest. Marinate for at least 4 hours. Once Marinated, place on a baking tray, cover with Aluminum Foil and cook for 2.5hr at 165C. It has to be really soft and tender and pulled apart easily. .
For the PICKLED ONIONS
Slice very thin the red onions, marinated in the lime and orange juice, season with salt and oregano, for at least 4 hours. .
For the HABANERO MAYONNAISE.
Mix the mayonnaise, Habanero Kankun Sauce® and finish with a squeeze of lemon. If you love spicy food, go ahead and add some more Habanero Kankun Sauce® for a hot flavour. .
To FINISH
Cook the bao buns in the steamer until cook, filled them with the Habanero Mayonnaise, add the pulled pork, top with pickled onions and finish with grated carrots, chopped peanuts and chopped coriander.