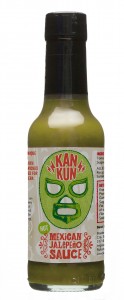 Visit KANKUN® at the Speciality fine food Show 2014
KANKUN® Sauce, the traditional Mexican Sauce company, is bringing Mexico to the Speciality and Fine food  Show 2014, taking place at Olympia, running from7-9 of September 2014. Visit KANKUN® on stand 420D where there will be tasters and free sachets of the range of authentic Mexican sauces.
KANKUN® is bringing its Jalapeno sauce to this year's Show, the most recent exciting additions to the collection. The Habanero sauce and Chipotle sauce  has recently got a prestigious Great Taste Award, where they say the sauce has a "very honest and irresistible flavour" that will "add a new dimension to your cooking".
KANKUN® offers five authentic Mexican sauces. Free of gluten and additives, they are suitable for vegetarians and low in salt and fat. The range comprises:
KANKUN® Chipotle Hot, a unique blend of earthy and smoky spiciness and the perfect heat level
KANKUN® Chipotle Mild, for those who like their flavour with a mild touch of heat
KANKUN® Marinade Sauce, for marinating and adding a Mexican flavour with a smoky medium heat in a single step
KANKUN® Habanero, 85% habanero puree for extreme heat lovers with a moreish flavour
KANKUN® Jalapeno, for Jalapeno lovers!.
The Speciality and Fine Food Fair is an unrivalled opportunity for independent retailers, delicatessens, chefs, hoteliers, restauranteurs and importers, distributors and wholesalers to meet UK and international producers and suppliers of the finest food and drink. The fair incorporates the Speciality Chocolate Fair which is the UK's only dedicated trade event for fine and artisan chocolate, providing a unique and focused platform to showcase luxury and gourmet chocolate to top buyers. See more at #SFFF14
KANKUNtastic MEMORIES OF THIS EVENT.