.
RECIPE AND PHOTOS: Courtesy of MexiGeek
.


Ingredients

Marinade
50g achiote paste ( recado rojo )
90/100ml Seville orange juice (or bitter orange substitute)
1 or 2 teaspoons KANKUN® Habanero Sauce (or to taste)
1.5 kg pork shoulder or loin
A banana leaf or cooking parchment (optional)
Preparation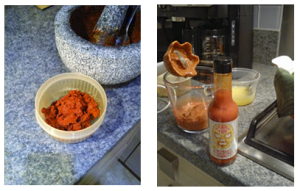 Preparing the marinade:
In a bowl, combine the achiote paste (recado rojo) with enough Seville orange juice to loosen it to a pourable consistency.
If the marinade is gritty, blend it with a hand-blender until it's smooth.
Unfold the banana's leaves (they are HUGE) and cut two pieces large enough to line the casserole dish and wrap around the pork.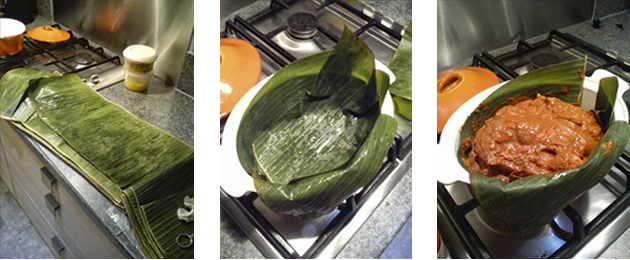 Line the casserole dish with one of the leaves, lay the pork in the dish, and pour over the marinade.
But don't just pour the marinade. Massage it in with your hands. Work that flavour!
Cover the pork with the other leaf and tucked it down on all sides so the pork is wrapped fairly tightly.
Put the lid on and leave to marinate in the fridge overnight. If you're not into waiting 24 hours to cook something, at least give it an hour or two. But the more time, the better.
When you're ready to cook, preheat the oven to 180° C (160° fan) and cook for 3 to 4 hours.
You'll need to use your judgement here, but your pork may need as much as five hours, depending on your oven and the size of your cut of pork.
If you're doing the slow-cooker method, my estimate would be 10 hours on low or 2 hours on high followed by 3 hours on low.
When the pork is done, remove it and shred it like pulled pork or carnitas: it should fall apart easily.
Then pour the remaining marinade and cooking juices from the dish over the shredded pork and gave it a good mix.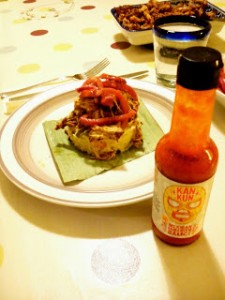 You can serve the shredded pork with warm tortillas and make tacos, or serve with a traditional Mexican rice dish.
Another classic way to serve cochinita pibil is shredded on top of panuchos, which are Yucatecan tortillas stuffed with refried beans.
But whatever you choose, make sure you top the pork with Yucatecan pink picked onions (cebollas en escabeche) and serve some more KANKUN® Habanero sauce for those who really want to crank up the heat!
Thank you MexiGeek for sharing this recipe!
.