This is  a Mexican twist recipe on the tradition plain mushrooms recipe, they go with so many different dishes.  We promise this spicy mushrooms recipe  will go super well with the Sunday fry up or your favourite green salad. This a recipe courtesy of Mouthful of Mark.
Ingredients
250g button mushrooms
Large knob of salted butter
Few glugs of Worcestershire sauce
Freshly ground black pepper
Few splashes of Kankun™ Habanero Sauce
100ml vegetable stock
Preparation
Make up the stock according to the packet instructions. Brushing any soil away from the mushrooms, chop them in half.  Place a medium sized pan on the hob and melt the butter on a medium heat, once melted, add the mushrooms to the pan and stir until all of the mushrooms get a good coating of the butter. Add the stock to the pan along with the Worcestershire and habanero sauce, a few grinds of pepper and saute the mushrooms until the stock has been reduced and thickened.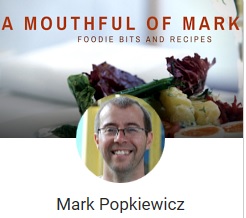 Mark is UK  food blogger that loves to cook and to travel. He is passionate of all cuisine styles and Mexican foods is at the top of his list of favourites.
"I have loved Mexican food for years. Back in the day, Mexican food to me was chilli con carne, fajitas and nachos, how naïve was I!.  I got to know Kankun Mexican Sauces, through a social media competition. I used the habanero on my fajitas and the chipotle on my flatbreads, I was hooked, the sauces had so much flavour and ranged from mild to hot, something for everyone!
I got to know better the Mexican cuisine and discovered a whole new world of recipes, who knew there were so many different types of chillies! I made chicken tortilla soup, I had never even heard of this before, let alone esquites (Mexican street corn salad), what's that!  A new found interest in Mexican food was born, thanks to my friend Rolando Cardenas founder of Kankun Mexican Sauces   and his wonderful sauces." says Mark.
 If you are a food blogger and would like to unleash your inner wrestler in the kitchen like Mark does, do contact info@kankunsauce.com