.


Recipe and photos courtesy of MexiGeek
Ingredients
500 – 750g pork shoulder for carnitas
Half a pineapple, diced (I actually used tinned pineapple)
1 red onion, diced
1 recipe recado rojo (about 50 g)
4 tbsp KANKUN® Chipotle Sauce
90 – 100ml pineapple juice
A few extra pieces of diced pineapple, tortillas and some extra KANKUN® Chipotle Sauce (to serve)
Preparation
Carnita preparation: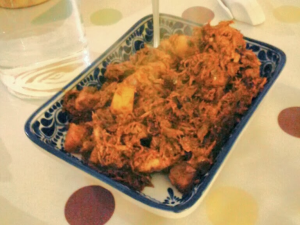 – Trim the gristle from your pork
– Rub it with some ground spices like black pepper, allspice, a dash of cinnamon and a pinch of cumin
– Put in a casserole dish, cover with about 500 ml of water (taking care not to wash off the spices), cover and roast at 180° C (160° fan) for 3 – 5 hours.
– When cooked, shred it and leave it to one side.
Note: This recipe works really well with leftover carnitas. Or, you could dice the pork shoulder, marinate it in the sauce (see below) for at least an hour (preferably overnight), then brown it in a frying pan along with the red onion, then cover and stick it in the oven at 160° C (fan) for an hour.
Making the sauce:

– Blend the recado rojo (achiote paste) with the KANKUN® Chipotle Sauce and a few chunks of pineapple.
– Add the pineapple juice a bit at a time until the sauce is thin but not watery. If you're using diced pork shoulder, this is what you use as a marinade.
– If you're using carnitas, heat some oil in a pan and sweat the onion. Then fry the carnitas until they take on a bit of texture. Now add the sauce and continue cooking until the pork is completely covered and heated through. Then add the pineapple and continue frying a few minutes longer.
Serve with warm tortillas and a little extra KANKUN® Chipotle Sauce on the side.

THANK YOU MEXIGEEK FOR SHARING YOUR RECIPE!
.