This is a take on the traditional chilli con carne, but spice it up using Mexican Mole. Mexican Mole is the new food trend in the UK, so we are not surprise when we saw this interesting and delicious creation from Mouthful of Mark. This Mexican Mole Beef Steak dish is a real crowd pleaser and should serve 5-6 people. The different spices along with the mole and habanero really give this chilli a depth of flavour.
Recipe courtesy of Mouthful of Mark..
Ingredients
1 tbsp vegetable oil
800g cubed braising steak
1 red onion
3 cloves garlic
20g jalapeno peppers
400g tinned tomatoes
2 tbsp tomato puree
Salt salt and black pepper
1 tsp fresh coriander
Pinch of cayenne pepper
1 tsp coriander powder
Pinch of cumin
2 tsp smoked paprika
2 chipotles in adobo sauce
3 bay leafs
2 tsp honey
70g dark chocolate (70%)
330ml beer
300ml beef stock
300g kidney beans
Good few glugs of Kankun™ habanero sauce
Preparation
Heat the oil in a large casserole dish on the hob, add the meat and fry until browned all over. Remove the meat and tip away the excess liquid/fat left in the pan.
Whilst the meat is browning, peel the onion and cut into quarters, place into a liquidiser along with the garlic,jalapeno chillies, coriander powder, cayenne pepper, smoked paprika, cumin and the chipotles along with some of the adobo sauce, blitz until smooth. Add the paste to the casserole dish and fry for a few minutes.
In a small pan over a medium heat, add a tablespoon of the Kankun Poblano Mole paste with 4 or 5 tablespoons of water and stir through, you want a runny consistency therefore add extra water if needed. You can also use beef stock instead of water when making this.
Return the beefsteak to the casserole dish and add the mole sauce along with the beef stock, bay leafs, honey, beer and chocolate. Stir thoroughly and then add the tomatoes, tomato puree, a few grinds of black pepper, a good pinch of salt and a good few glugs of the Kankun habanero sauce, stir through, place a lid onto the dish and place into a preheated oven at 160 degrees.  This will need to cook for around 3 hours as we want the beef nice and tender.  I would suggest giving the chilli a stir each hour.  After two hours of cooking add the drained kidney beans and stir through.
I would recommend making this recipe the day before as this really enhances the flavour. When serving stir through the chopped fresh coriander and serve with, sour cream, grated cheese, tortilla chips and rice.  When I make my rice I like to stir through some fresh chopped coriander to add some flavor.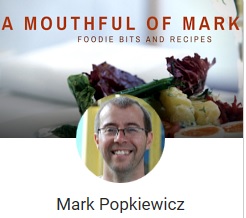 Mark is UK  food blogger that loves to cook and to travel. He is passionate of all cuisine styles and Mexican foods is at the top of his list of favourites.
"I have loved Mexican food for years. Back in the day, Mexican food to me was chilli con carne, fajitas and nachos, how naïve was I!.  I got to know Kankun Mexican Sauces, through a social media competition. I used the habanero on my fajitas and the chipotle on my flatbreads, I was hooked, the sauces had so much flavour and ranged from mild to hot, something for everyone!
I got to know better the Mexican cuisine and discovered a whole new world of recipes, who knew there were so many different types of chillies! I made chicken tortilla soup, I had never even heard of this before, let alone esquites (Mexican street corn salad), what's that!  A new found interest in Mexican food was born, thanks to my friend Rolando Cardenas founder of Kankun Mexican Sauces and his wonderful sauces." says Mark.
 If you are a food blogger and would like to unleash your inner wrestler in the kitchen like Mark does, do contact info@kankunsauce.com